In the first few months after buying the Canon PRO-1000, I spent a lot of time figuring out a good and efficient printing workflow. This article describes the steps I now take for preparing an image for print and sending it to the printer, with the hope to help other beginners like me finding their own workflow. The earlier parts of the described workflow are independent from the printer make and model, but some parts of the actual printing will be relevant only to owners of Canon printers. Suggestions, comments or questions are very welcome, feel free to contact me anytime.
Note: while the original version of this article was published in 2018, it has been kept up to date with changes in my workflow and updates to the software I use. With the last update written in May 2022, it is therefore by no means outdated.
The Basic Workflow

The basic steps from the raw file to the printed image are:
Noise Reduction
Sharpening (moderate)
Image editing
Soft proofing

Scale image to print resolution
Output sharpening
Print

In the following sections I will first cover the software I use, my recommendation on working color space and color depth and then describe my approach for each of these steps. For the last three steps I'll outline two different approaches, a simple, Lightroom-based workflow for smaller prints and an advanced workflow for larger prints that require more control over the scaling and output sharpening.

For further reading I can recommend the (German) Fine Art Printer magazine. You can order back issues in print or as PDF via their online shop. In issue 2/2016 they had an article on printing workflow, which partly inspired my own workflow. They also sell their own Photoshop actions for various steps of the printing workflow, however those work only in German-language Photoshop.
The Software
The core elements of my image editing and printing workflow are the latest versions of Adobe Lightroom Classic CC and Photoshop.

Another important part of my workflow are the different plugins that make up the NIK Collection, a software with a quite eventful history. First it was developed by NIK Software and sold commercially. Then Google bought NIK Software and distributed the software for free, but at some point stopped the development. In 2017 DXO bought the software from Google and in June 2018 started selling a first update commercially. That version contains only marginal update, so for now the free Google version will most likely do the job for you, and you can still find it on some download sites. For my advanced printing workflow I use the Photoshop version of the NIK plugins since I use them in combination with Photoshops tools for scaling. Sidenote: For other editing purposes such as black and white conversions with Silver Efex Pro, I now go the direct route via the Lightroom version of the NIK plugins, since DXO has now finally implemented a feature for non-destructive editing directly from Lightroom (previously you had to use Photoshop Smart Filters to achieve this with the NIK plugins).

For printing in some cases I use Canon Print Studio Pro or the newer Canon Professional Print & Layout.
Color Space and Color Depth
An often discussed question is the working color space and color depth.

Raw images do not have a color space and Lightroom always works with Melissa RGB in the development module, which is a variant of ProPhoto RGB. So up to this point, there are no choices to make. However in image editing software like Photoshop, the user chooses the color space and color depth to work in. My recommendation is to use ProPhoto RGB as working color space and a color depth of 16 bit.
And here are the reasons why:
Update Apr 8, 2019: in the meantime I have written a separate and more detailed article on the topic of ProPhoto RGB: Why ProPhoto RGB as Working Color Space?

Regarding the color depth of 16 bit: especially when working with larger color spaces like ProPhoto RGB, the choice of 16 bit will allow you to retain smooth gradients during all kinds of image manipulations and when printing. Similar to the color space this choice allows you to go through your workflow with the least loss of information possible. To send images to the PRO-1000 in 16 bit you need to use the XPS driver instead of the standard driver. When you install the XPS driver, it will show up as a separate printer in Windows, which you then can choose in the printer dialogue of Lightroom.
Noise Reduction and Sharpening

In most cases I use the noise reduction and sharpening of Lightroom. For difficult cases (e.g. photos that will end up in larger prints) or where selective noise reduction or sharpening is required, I use Dfine and the RAW Presharpener element of Sharpener Pro from the NIK Collection.

Compared to Lightroom, the NIK plugins allows you to apply different amounts of sharpening and noise reduction to different areas of the image. Also their algorithms analyze the image automatically and take its content into account when applying noise reduction and sharpening. The sliders NIK offers to influence their algorithms are for me more intuitive and result-oriented than those of Lightroom.

Since we will apply output sharpening later, the sharpening at this stage should be applied only moderately.
Image Editing
My image editing is done mostly in Lightroom for basic and local adjustments. Sometimes I use Photoshop for some advanced adjustment, for example the selective application of curves. For black and white conversion I solely rely on Silver Efex Pro from the NIK Collection. It comes with a nice set of presets, which can then be fine tuned. For me, Silver Efex Pro provides a smoother, more natural approach to black and white conversion than other tools. It also has some unique editing tools, like the soft contrast, which applies a less local and more global contrast adjustment over an image.
Soft Proofing

At this point I use Lightroom's or Photoshop's soft proof function to get an impression how the image will look in print, and make adjustments if required.

A prerequisite for this is having a calibrated and profiled monitor. Profiling will ensure that colors are displayed correctly on the monitor, calibration allows you to adjust the brightness and color temperature of the monitor. Any monitor can be profiled using display calibration solutions like the popular Spyder series, the profile is then applied via software-based color management. Only specialized monitors support the profile to be loaded into the monitor, and the calibration of brightness, color temperature and other parameters.
Both is important to get a good match between screen and print. The color temperature of typical ambient light under which prints are displayed (5,000-5,500 Kelvin) is less than that most monitors used a default (6,500 K). Also a lower brightness than the default often helps to get the screen closer to the print. I use an Eizo CG277 profiled and calibrated with its internal calibration sensor to 5,500 K and a brightness of 80 cd/sqm, and was actually quite amazed with how close the prints look to what the soft proof shows on screen. If your monitor has limited capabilities here, I'd recommend at least a software-based calibration and a manual reduction of the brightness of the screen.

Simple Workflow for Printing Smaller Prints from Lightroom (<= A3)
For smaller prints, I use the Lightroom print module for scaling, output sharpening and printing. Scaling is done by checking Print Resolution under Print Job and setting the desired PPI. Sharpening by checking Print Sharpening and choosing a strength and Media Type. Lightroom only offers matte and glossy as type but none for luster paper. For me the glossy setting with setting Low produces good results on luster paper.
For color management I use Lightroom and test for each individual image in the soft proof which rendering intent works best. Don't forget to disable color management in the printer driver and make any other settings required for the paper. In my case I use the recommendation that Hahnemühle provides in an PDF when downloading ICC profiles for paper/printer combination from their website. For their heavier fine art papers (> 300 gsm), I would additionally recommend to increase the print head height (see screenshot below), since with the standard setting I regularly had issues with the print head hitting the paper and roughing up its edges.

I created custom media types for all my Hahnemühle paper using Canon's Media Configuration Tool. This allows you to set certain parameters like print head height depending on your paper weight and helps identifying the paper in the Canon Accounting Manager. Also when using Canon Print Studio Pro (more on that below) some settings are only available via custom media types. More on custom media types in this article.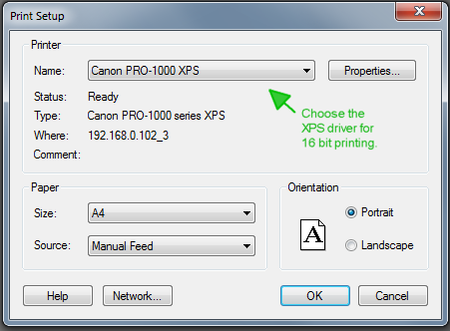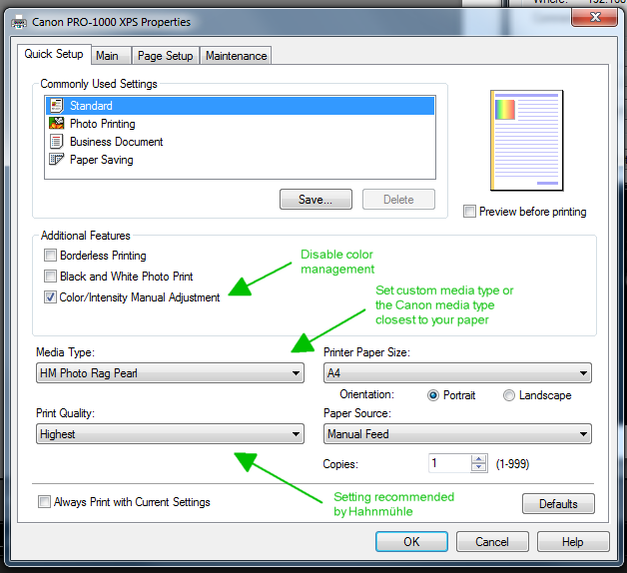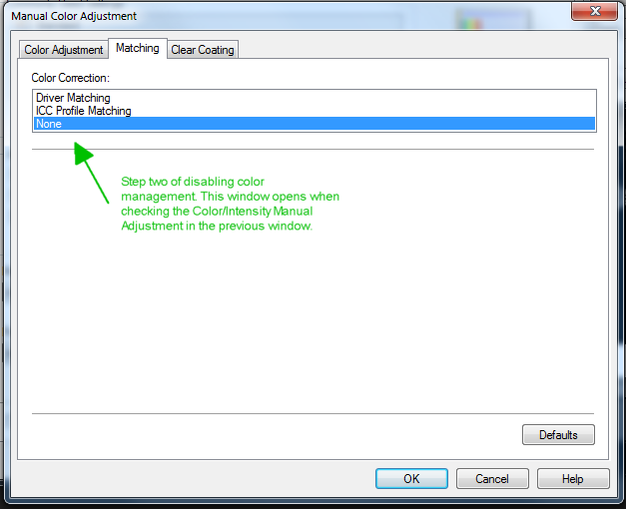 To save you work on repeated prints, Lightroom allows you to create templates. I create templates for paper and size combinations, for example one template for Hahnemühle Photo Rag Pearl in A4. Further, if you plan to produce the same print often you can create saved prints, which save all settings and the concrete photo you printed.

Advanced Workflow for Larger Prints (> A3)

For larger prints I have adopted a workflow that allows more control of the scaling and sharpening applied.

Advanced Workflow - Scaling Image to Print Resolution

For scaling I use Photoshop. In the Image menu choose Image Resize, enter the size and resolution, check Resample and choose an algorithm. Preserve Details and Preserve Details 2.0 usually work best for me. The two version of the algorithm give slightly different results and I decide individually for each image which works best.
Advanced Workflow - Output Sharpening

For sharpening I use the Output Sharpener that comes as part of NIK's Sharpener Pro. Compared to the print module of Lightroom, the Output Sharpener allows much more detailed control. Lightroom only differs between matte and glossy paper and for each offers three different amounts of sharpening. NIK's Output Sharpener distinguishes six paper types (e.g. also canvas or luster), viewing distance (more sharpening can be applied if looking at an image from further away) and the printer's resolution. It also offers much finer control over the amount of sharpening and sharpening can be applied selectively to different areas of the image. Another big advantage is that with the Output Sharpener you can preview the results, which is not possible with Lightroom. The Output Sharpener can be applied as Smart Filter, so you can later go back and change its settings.
If your raw image is noisy or not perfectly sharp, there is one last step which can help to improve the perceived sharpness and quality of an image: add some grain. For that I use the Blur Gallery filter of Photoshop. Check out this video for step-by-step instructions on how to do that.
Below you can find screenshots of the tools and methods described above:

Advanced Workflow - Print - Canon Print Studio Pro

For printing the final image, I use Canon's Print Studio Pro (PSP). Images edited with this advanced workflow usually get printed with the size predetermined through the scaling applied, one image centered per sheet. Achieving this simple layout is easier with PSP than with the layout module of Lightroom. Printing from Photoshop would also be an option, but Photoshop does not allow you to save and reuse settings, as PSP does.
PSP works as plugin for Photoshop, Lightroom and also Canon's own raw converter Digital Photo Professional. It provides an easy-to-use interface to all print settings and has a simple but effective layout module. It provides only a limited scaling mechanism (there is no documentation on what it does) and a very limited sharpening function (labeled "use contrast reproduction"), the latter only working for certain Canon printers and Canon media types. For these reasons Lightroom is for me the better choice for the simple workflow for smaller prints. But in the advanced workflow, where scaling and sharpening is applied in advance, PSP works well.
There is two topics regarding PSP I'd like to get into a bit further:
First, when using PSP you will not have any direct access to printer driver settings and the PSP user interface does not make all those settings available to you. One instance is the print height setting, which I already talked about described in the Lightroom workflow. To get control of the print head height in PSP you need to either choose one of the standard media types with higher print head, or if none is available, create your own custom media types. I choose to create custom media types for all papers I use. More on custom media types in this article.

Second, officially PSP does not support ProPhoto RGB, the working color space I have recommended earlier in this article. The PSP manual mentions only sRGB and Adobe RGB, and Canon's support confirmed this to me. When asking what PSP does when a ProPhoto file is opened, they told me that the internal workings of the software are a trade secret and cannot be shared with users (I am not making this up). However running some tests showed a different picture:
Lightroom: it is true that when used from Lightroom, PSP does not support ProPhoto RGB. In the registration of the plugin, Lightroom is instructed to convert data to AdobeRGB before sending it to PSP. This can be easily confirmed, since in the Image Information panel on the left side PSP shows the color space of the image it receives.


Photoshop: here Canon seems to not know the true capabilities of their software. When opening ProPhoto RGB images from Photoshop, the Image Information panel in PSP will show ProPhoto RGB. Printing test charts of color gradients in ProPhoto RGB from PSP and from Photoshop itself in comparison show that the results are identically, and thus it seems that PSP truly supports ProPhoto here.
Since the advanced workflow outlined above is already based on Photoshop, I would therefore also recommend to use Photoshop to send your image to PSP if you use ProPhoto as working color space. Since PSP itself has the capability, I hope that Canon at some point will officially support ProPhoto and change the way they register the plugin in Lightroom.

Advanced Workflow - Print - Canon Professional Print & Layout
Update May 13, 2022: in the meantime, Canon has released Canon Professional Print & Layout (PPL) as alternative to Print Studio Pro (PSP). Its main advantages are layout options for printing multiple images on one page, or multiple pages, while for printing single images it does not offer any new functionality compared to PSP. Still, here a short overview how the printing step looks like with PPL. You can find more information on using PPL in its manual.

PPL could be used as stand-alone software (which PSP cannot not) but also works as plugin for Adobe Photoshop, Adobe Lightroom and Canon's own Digital Photo Professional raw converter. Since my advanced workflow is based on Photoshop, I use the Photoshop plugin, and same as for PSP, I see the advantage in using PPL over the Photoshop print function in its ability to save presets for print and layout settings.

Same as PSP, also PPL offers only limited scaling and sharpening options, again making it ideal for the advanced workflow where I scale and sharpen my images already with dedicated tools.
Below a few screenshots showing which settings I use for printing from PPL.
What I wrote for PSP regarding print driver settings and color spaces also holds true for PPL.
Print driver settings are not available from PPL, so any settings like the print head height are controlled by the media type, and you have to create custom media types if you want to control them. In my case, I create custom media types for all papers I use, so I have no problem with this limitation. You can find more on this in another of my blog articles.
Regarding color spaces, the PPL manual only briefly mentions Adobe RGB and sRGB. However, when opening an image in the ProPhoto RGB color space from Photoshop the color space is recognized (see the screenshot below) and the image is printed correctly. When using the Lightroom plugin the same limitation applies as for PSP, the way the plugin is registered forces Lightroom to convert the image to Adobe RGB, therefore potentially loosing color information. My workflow is based on ProPhoto RGB, the reasoning for which I explained in yet another of my blog articles, therefore I would always go the route via Photoshop when printing from PPL.
Final Words

I hope you'll find this article useful and can use it as an inspiration for your own printing workflow. Any questions, comments or suggestions are very welcome, please feel free to contact me.

All the best, Robert